GMC SPA is owned by Grassi Family and has been operating in the marble and granite field since 1973.
The GMC GROUP established from two important companies, modern equipped their offices in Ortonovo and Massa-Carrara, is since years enjoying a high reputation from the markets due to the selected quality of marbles and granites and for the care granted to the production and processing.
The modern equipped plants and the high qualified staff, including the entire processing chain, from the quarryto the final execution of the order: Complying with the arranged schedule, to the strictly selection of the various marbles and granites, are pushing the GMC GROUP to the market leader.
Demand of large quantities of polished-flamed slabs, as well as various types of cut-to-size designated to projects can be easily fulfilled due to our great production capacity.
GMC Company is owner of quarries in Carrara; our material are Bianco Carrara, Statuario, Arabescato, Calacatta and, furthermore, is exclusive owner of Breccia Capraia quarry.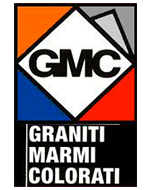 Via Fossone Basso, 8
19034 Isola di Ortonovo (SP)
Office : +39 0187 661680
www.gmcspa.com

STOCKED MATERIALS of this PARTNER