O.M.G. Srl is part of Gruppo Tosco Marmi, founded in the early 60's and specialized in extracting, proceeding and commercializing of  natural stones found in the Italian Ossola valley, among them the marble Palissandro, the Serizzo and the Beola.
The group is owner of the one and only worldwide existing quarry of Palissandro.
The Palissandro is an extremely precious stone with a countless number of variations in vains and colours, unique in its genre. This marble has been used for more than 500 years already and is still to admire in important historical buildings and monuments.
Nowadays applications of Palissandro are numerous, either interior or outdoor use : floors and wall-claddings as well as accentuation of modern designs.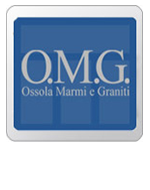 Via Torino, 23
28845 Domodossola (VB)
Email: info@omgdomo.it
Office : +39 0324 481481
www.omgdomo.it

STOCKED MATERIALS of this PARTNER